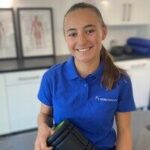 QUALIFICATIONS AND EXPERIENCE:
Adele recently completed her Sports Therapy degree at Bournemouth University achieving a First Class Degree. Her passion for sport grew at a young age after competing around the UK and internationally in sailing. Seeing others around her struggle with injury inspired her to study sports therapy to learn how to help those struggling with musculoskeletal injury, return to the activity or sport they love.
She has experience of working in a musculoskeletal clinic and volunteered at Bournemouth 7's sports festival, dealing with sport preparation such as, taping and acute injury rehabilitation as part of her university placement.
Whilst at university she has learnt a variety of skills to be used during injury rehabilitation and is trained in sports massage and other soft tissue therapies. She is also qualified in joint mobilisations and can use a combination of therapies, alongside exercise, to develop a personalised treatment plan.
PASSIONS:
Sport has played a huge role in Adele's life and she recognises the importance of keeping active for benefits both physically and mentally.
Adele also has a passion for keeping independence through movement as we age, she has been a part of a team at Bournemouth University researching prevention strategies for falls and fractures.
WHY DID ADELE BECOME A SPORTS THERAPIST?
After following and being involved in sport, Adele discovered an interest in injury rehabilitation with the goal of giving the patient the tools needed to get back to their activity or competition.
Sports vary in many ways and Adele believes that creating a treatment plan with a focus on the specific movements involved in your particular sport can help to improve prospects, motivation, and longevity when returning to that activity.
WHERE WOULD WE FIND ADELE IN HER SPARE TIME?
You would probably catch Adele on the water either, sailing, kitesurfing or stand-up paddle boarding. When she is not on the water you might find her on the tennis court, walking her dog Otis, or spending time with family and friends.