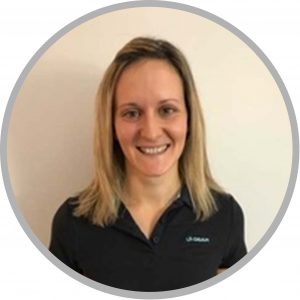 QUALIFICATIONS AND EXPERIENCES
University College Birmingham: BSc in Sports Therapy 2:1
Tyler school of Body Mechanics: Diploma in Body Mechanics Therapy
I have just moved to Poole from Luton where I had spent the last two years building a successful sports therapy business. Client's included sports people and the general public. I treated sports injuries and more general aches and pains, chronic and acute.
SKILLS
I am a qualified body mechanics therapist. Body mechanics is a complimentary therapy which focuses on posture and muscle alignment. I am passionate about helping people make changes to everyday movement patterns to improve posture and reduce pain. My skills include deep tissue massage, ultrasound therapy, injury diagnosis, rehabilitation and training programmes, gait and posture analysis and lymphatic drainage.
PASSIONS
I have two small boys who keep me very busy. I enjoy the beach, the sea and any sport done on the water. I love being a sports therapist and working with people to reduce pain and improve their health and wellbeing.
WHY DID YOU BECOME A SPORTS THERAPIST?
I love sport, I am fascinated by anatomy and physiology and I love to help people and ensure that they leave feeling better than when they walked in.