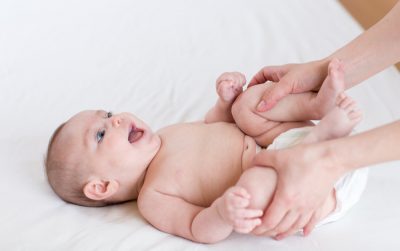 WHY DO BABY MASSAGE?
Touch is the first sense developed in the womb and is how your baby primarily experiences and communicates with their world.
A parent's nurturing touch is known to have an important role for easing the "transition from womb to world" for their new baby. Baby massage can be a wonderful extension of this natural impulse, whilst also enhancing the bonding process through skin-to-skin touch, eye contact, voice, smell and increased levels of oxytocin.
The traditional practice of Baby Massage dates back 3000 years and in many cultures babies are massaged daily. This connection through positive nurturing touch is acknowledged to help parents understand what their baby is communicating and therefore allows parents to respond in a way that best meets their baby's needs.
BENEFITS OF BABY MASSAGE
For your baby
Helping your baby to feel loved and securely attached
Reduced crying and emotional distress
Increasing levels of relaxation and longer sleep
Development of body awareness and coordination
Relief from wind, colic, constipation and teething discomfort
For you
Feeling closer to your baby
Gaining a deeper understanding of your baby's behaviour, crying and body language
Providing an enjoyable opportunity to spend one-to-one time with your baby
Feeling the relaxing effects of giving your baby a massage
Increased confidence in your ability to care for and nurture your baby
Developing a life-long parenting skill
ABOUT EMMA
Emma is the owner of Sunflower Baby Massage and a Certified Infant Massage Instructor with the International Association of Infant Massage (IAIM), accredited by the Royal College of Midwives, Complementary Therapists Association and Embody.
Emma also has a Combined Honours degree in Psychology and Counselling Skills with significant experience, training and knowledge around working with children and their families in various capacities, alongside health visitors, midwives and children centres.
As a Mum of two children, aged four and two, Emma has first-hand experience of how to integrate baby massage into your routine and the benefits massage can bring to you, your baby and your family, as your baby grows.
About the International Association of Infant Massage:
The Founder of the IAIM, Vimala McClure brought the traditional practice of Baby Massage to the West in 1992, developing a programme from her experience working and studying at an orphanage in Northern India, where all babies were massaged as part of their daily routine.
The IAIM is now a global organisation with chapters teaching Baby Massage in over 50 countries. For more information around Vimala, her vision and the IAIM, please visit www.iaimbabymassage.co.uk
THE COURSE
Classes are suitable for babies from birth to crawling and provide a welcoming, warm and relaxed space for you to spend quality-time nurturing your baby. You will learn a multi-integrated full body massage developed from Indian and Swedish massage traditions, as well as incorporating principles from yoga and reflexology to promote interaction, stimulation, relaxation and relief.
WHAT'S INVOLVED?
Five classes of 90 minutes each, which run over 5 consecutive weeks.
Learning baby massage strokes, concentrating on a new body area each week.
A short routine to help relieve symptoms of colic, wind and constipation.
Gentle movements, based on the principals of yoga.
Information around massage oils, best time for massage, behavioural states and adapting massage for the growing child.
Plenty of time for discussion and sharing experiences throughout.
BABY-LED CLASSES
Classes are adaptable, flexible and totally baby-led. Babies are welcomed to be babies and often direct the flow of the class. All massage instructions are repeated each week as well as covered in our Parent Handbook. Emma is also available after the class to answer any questions or to clarify any of the strokes.
COURSE COST AND BOOKINGS
The five-week course is £55.
Courses run regularly from Total Therapy HQ in Parkstone and Total Therapy Clinic in Christchurch.
Group size is strictly limited to ensure the sessions are relaxed, informal and accommodate individual needs, therefore booking is essential.
For further information or to make a booking, please contact Emma on:
Mob. 07737 503092
Email: emma@sunflowerbabymassage.co.uk
Facebook: https://www.facebook.com/sunflowerbabymassage/
Website: www.sunflowerbabymassage.co.uk
WHAT THE PARENTS SAY….
Helen and Baby Isaac:
"Isaac is more relaxed and sleeps through the night and is less windy. I feel like I know him better"
Harriet and Baby Henry:
"Calm, nurturing atmosphere to learn massage under brilliant tuition"
Kirsty and Baby Kyran:
"A fantastic instructor explaining everything so clearly in a friendly atmosphere. Kyran has enjoyed the massages and it has helped with his bowel movements"
Charly and Baby Amelea-May:
"Amelea-May is lot calmer and she feels closer to me, than I thought before. We thoroughly enjoyed our sessions and I feel a lot closer to her because of it"
Elaine and Baby Finley:
"More relaxed and has better digestion. The benefits will last throughout Finley's childhood"