Know Your Numbers!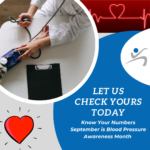 September is 'Know Your Numbers' month! Do you know what your blood pressure is? Do you know what it should be? Do you know how to get it, and keep it at a good level?
Well wonder no more, here at Lilliput Health we are here to answer all of the above! This month we are offering complimentary blood pressure checks to anyone who would like one. All you have to do is let one of our team members know and one of our trained professionals will take it for you!
But why are we doing this?
Simply because 6 million people in the UK have high blood pressure and don't even know about it. Even crazier than that 350 people a day in the UK have a heart attack or stoke that could have been prevented.
When you know your numbers, you will be able to see which ranges you fit in to.
Normal blood pressure – 120/80
Pre hyper tension – 120-139/80-90
High Blood pressure – 140-159/90-99
Hypertension stage 2 – 160+/100+
Hypertensive crisis – 180+/110+
Where does your reading fall? If you are above the normal range you need to take steps to lower your blood pressure (BP). A good place to start is by talking to your GP, depending on which stage you are in you may need medical help to lower your BP.
There are other step you can take such as: quitting smoking, lowering alcohol intake, diet changes and increasing exercise.
There have also been a few studies that suggest chiropractic care can also lower blood pressure, pretty cool hey!?
If you have any questions or concerns regarding your heart health, let your practitioner know and they will be able to guide you in the best direction. Obviously if it's urgent head straight to the nearest hospital!
We are excited to help you 'Know Your Numbers' through the month of September, and we are also happy to check you BP at any time of the year. Looking forward to seeing you all at Total Therapy soon!
So, if you want to 'Know your Numbers' Simply give us a call on 01202 725090 and mention you would like it added into your appointment.