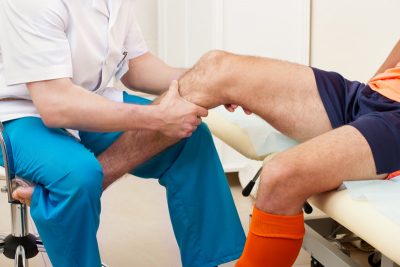 Movement is vital to our everyday living activities; socialising, leisure and livelihood, so don't let an injury affect your lifestyle.
Rehabilitation following any injury no matter how minor or major can play an important role within the recovery process. Not only will it have great benefits physiologically (improving movement, muscle strength and body awareness) but psychologically can help increase confidence, mood and self-belief as you begin to be able to achieve simple tasks pain free again.
A structured rehabilitation programme will see you right through from the start of your journey, to the end of your journey. We construct rehabilitation programmes for all injuries, including every day and occupational, as well as injuries sustained participating in sport.
All of our Sports Therapists have studied for 3 years at University gaining a BscHons Degree.
HOW EFFECTIVE IS SPORTS THERAPY?
The use of manual therapy combined with exercise based therapy has shown more rapid and more complete muscle recovery than the use of manual therapy alone.
Intensive rehabilitation has been found to allow for a faster recovery and an even faster return to sport/competition.
Exercises intended to restore range of movement, increase strength and proprioception allow for return to activity and serves to prevent re-injury.
OUR PROMISE TO YOU
We aim to work with our patients to help you overcome your injury with confidence, and allow a safe and efficient return to the workplace, activities of daily living or returning to the sport you love.
OUR STANDARDS
We treat every customer as an individual, and develop an exercise program specific to your needs, we will work with you through offering advice, guidance and support throughout your rehabilitation journey.
SPORTS INJURIES WE TREAT
Sports injuries
Back, neck and shoulder pain
Shin splints
Runners knee
Achilles tendon pain
Tennis and Golfer's elbow
Frozen shoulder
Post-surgery rehabilitation, examples below:
Hip replacements
Knee replacement
Shoulder stabilisations
TREATMENTS USED
During the initial treatment session, we will complete a thorough assessment to establish your current stage of recovery.
We will look at and measure your:
Available range of motion – are there any restrictions?
Stability – around the joint or full kinetic chain
Strength – any muscular imbalances present?
Flexibility – any muscle length imbalances/restrictions effecting the surrounding area?
Power/Speed – dependent on level of ability on you initial assessment.
Ability to perform functional movement patterns in a stable and unstable environment.
Following the investigative phase, a specific programme will be established to meet your needs and criteria for safe and effective return to sport.
Techniques our sports therapists may use during treatment:
– Soft tissue techniques: muscle energy techniques, trigger point therapy, soft tissue release.
– Mobilisations – peripheral joint and spine.
– Exercise programs will be prescribed to address your individual needs and to work alongside your goals.
– Our sports therapists can also create exercise programs focusing on injury prevention.
Additional treatments:
– Shockwave therapy
FREQUENTLY ASKED QUESTIONS:
Who can have a Rehabilitation programme?
Anyone who has suffered an injury and would like to speed up their recovery process.
How many sessions will I need?
This can be dependent on a number of factors:
Complexity of the structures involved
Severity of the injury
Healing times can vary from individual to individual
All of the above will be fully assessed during the initial consultation.
A management plan and rehab programme will then be developed, taking in to account your schedule, to help it fit in to or around your lifestyle. From here we will initially review progress every 2 weeks for the first month to ensure symptoms are progressing, then the reviews will become less frequent as you begin to progress with the training programme. The review will then be once per month where the focus of the session will be to re assess and progress exercises as appropriate.
You should notice positive changes with any exercise programme after the first 6 weeks and develop onwards from there.
Is it still worth undertaking the rehabilitation programme even though the injury was over a year ago?
If you feel the injury isn't fully resolved because you are unable to perform certain tasks due to muscle/joint restriction, or muscle weakness, then yes, a rehabilitation programme could help towards solving this issue.
A rehabilitation programme can also be devised to help reduce the risk of injury if you know that your chosen sport or activity puts you at an increased exposure to certain injuries.
How often will I need to see a therapist whilst undertaking the programme?
The sessions will be as follows:
Initial consultation (60 mins)
2 week review
2 week review
4 week review
4 week review
Throughout this time the clinician will be in telephone contact with you to answer any questions you may have.
Treatment plans can be adapted depending on the patient's requirements, for example if they would like more frequent reviews or one to one coaching through their programme. Or if due to the severity of the injury it may require closer attention initially.
Session/treatment plans.
The above treatment schedule is what we typically follow however, treatment plans may differ as they are adapted to fit your specific needs for successful injury rehabilitation.
What should I wear to my first session?
Bring to the session or arrive wearing comfortable clothing appropriate for exercise. Wear trainers that you would normally exercise in.
If the issue is lower limb, then wearing shorts would be beneficial. If the issue is upper limb for females, wearing a sports bra would be useful.
TREATMENT COST
Initial Consultation and Rehab Programme 60mins – £58
Follow up 45 min session – £48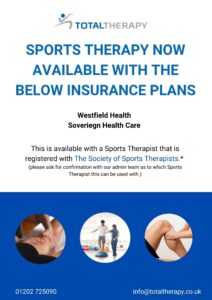 Sports Therapist

Graduated from Bournemouth University in 2020 with a BSc in Sports Therapy.

Read More

Sports Therapist

Adele recently completed her Sports Therapy degree at Bournemouth University achieving...

Read More

Sports Therapist

Fiona grew up surrounded by sport with her father being an international race and...

Read More