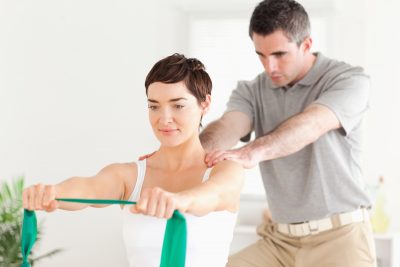 THE ROLE OF A PHYSIOTHERAPIST IS VAST AND OUR EXTENSIVE TRAINING IN REHABILITATION MEANS WE ARE EXPERTS IN THE CARE OF PATIENTS AFTER SURGERY.
There are many musculoskeletal and orthopaedic conditions which require surgery as part of the treatment plan. Examples include:
Surgical repair following a fracture
Joint replacement surgery
Cartilage removal, e.g. meniscectomy
Spinal fusion after intervertebral disc disease or spinal stenosis
Anterior Cruciate Ligament (ACL) repair
Repair of a ruptured tendon, e.g. the Achilles
Muscle tears, such as in the rotator cuff or biceps.
The list is goes on.  All patients are given post-operative protocols or advice to follow by their surgeon and are often referred to Physiotherapy.
A physiotherapist's role is to assess a patient's current function, strength and ranges of movement as well as any coinciding factors which may exist alongside their current condition.
A Chartered Physiotherapist will then progressively work with you to help restore normal movement and facilitate a return to pre-surgical function.  This process can sometimes take place over a prolonged period of time depending on the nature of the surgery performed.
HOW LILLIPUT HEALTH CAN HELP YOU?
Here at Lilliput Health in Poole our highly skilled Physiotherapists are available six days a week with access to appointments from 8am til 8pm. There is disabled parking right outside our front door as well as lift access to our clinic for patients using wheelchairs or with reduced mobility.
We are able to arrange home visits during the early stages after discharge from the hospital or if it is not possible to make it into our clinic.
For our Physiotherapy price list please click here.
If you have recently had surgery or are due to have surgery and would like some more information on how the Lilliput Health Physiotherapists can be of help, please contact the clinic on 01202 725090 or via email on info@lilliputhealth.co.uk.