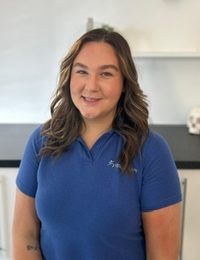 QUALIFICATIONS AND EXPERIENCE:
I graduated from Bournemouth University in 2020 with a BSc in Sports Therapy. Having enjoyed my undergraduate degree so much I wanted to further my knowledge in sports rehabilitation and strength training. This lead me to completing my masters degree in Strength, Conditioning and Rehabilitation in the September of 2021. I have worked at Eastleigh F.C and was also given the opportunity to spend a week in Norway treating in a sports injury clinic (Nr1 Fitness).
SKILLS:
Sports massage
MET stretching
Trigger Point Therapy
Myofacial release
Sports injury rehabilitation
Strength Training
PASSIONS:
I believe that any type of exercise and sport is incredibly important for not only an individuals physical well-being but their mental health as well. As a sports therapist my aim for my clients is to be able to get them back into playing their sport or to the gym and keep releasing those endorphins!
WHERE WOULD WE FIND MADDIE IN HER SPARE TIME?
I love the beach weather that would be swimming in the sea, long walks or running! I got into running during lockdown and its turned into a real passion of mine. I also love spending time with my family and friends (not forgetting my cats Piggy and Monkey and my little dog Wilbur).