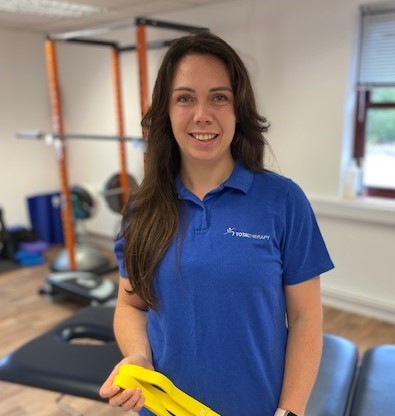 QUALIFICATIONS AND EXPERIENCE:
Fiona grew up surrounded by sport with her father being an international race and rally driver which lead to starting to study sports therapy in 2006. Since graduate with a Bachelor of Science (Honours) Fiona has gained a vast array of experience working pitch-side at sporting events to the supporting elderly patients suffering with degenerative joint problems.
Fiona has travelled to events with national sports athletes, national inline roller hockey teams and as lead therapist within Rugby Union squads for ten seasons.
Alongside this Fiona worked in private clinics and became part of the physiotherapy team at Warwick and Leamington hospitals aiding inpatients recovery on neurological, surgical and medical wards.
Fiona's passion to continue to learn and help people improve their lives has led to studying a four year BOst (hons) in Osteopathy which completes in 2025.
SKILLS:
• Anatomy in Motion (assessment and rehab of posture and movement)
• Injury rehabilitation
• Pre-op prehabilitation
• Treatment of complex conditions such as arthritis, fibromyalgia
• Sports taping
• Sports Massage
• Joint articulation
• Myofascial release
• Instrument-assisted soft tissue release (IASTM)
• Re-education of functional movement.
• Pitch side trauma
PASSIONS
Fiona enjoys spending her spare time walking, running, paddle boarding but mostly spending time with her partner and two little boys. Fiona enjoys fundraising especially when is involves sport. Previously having trekked to Everest Base Camp to raise money for children with cancer and having trained for a 100 mile cycle in aid of injured Rugby players and their families.