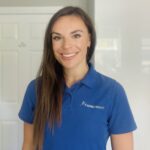 QUALIFICATIONS AND EXPERIENCE:
Lucy is a Masters Graduate Physiotherapist and achieved the highest academic
grade in her cohort, earning an award from the Chartered Society of
Physiotherapists in the process. Since graduating Lucy has worked in the NHS as
a rotational physiotherapist and has a range of experiences from helping people
take their first steps in intensive care to rehabbing sporting injuries. Prior to her
Masters, Lucy studied a degree in Sports and Exercise Science and went on work
for UK Sport. She has attended major competitions and knows the true demands
of elite sport and competition.
Lucy is a trained sports massage therapist and is also a Pilates matwork instructor
and Yoga teacher.
Lucy also offers dry needling (medical acupuncture) within her appointments.
Lucy has a particular interest in lower limb injuries and clinical
Pilates.
.
PASSIONS:
Outside of Physio, Lucy enjoys being outdoors and active. Lucy particularly
enjoys horse riding, running, paddleboarding and Pilates.
WHY DID LUCY BECOME A PHYSIOTHERAPIST?
Lucy truly values movement, activity and all the amazing things the human body
can do. She is passionate about getting to know each person individually and
supporting them to return to the activities that are most important to them.
WHERE WOULD WE FIND LUCY IN HER SPARE TIME?
Lucy is most likely to be at the Yard (with the horses) or at the Beach
.