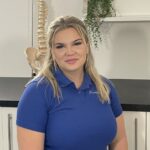 QUALIFICATIONS AND EXPERIENCE:
Holly qualified from the University of Plymouth in 2020 with a BSc (Hons) in Physiotherapy. She has since been working in Dorset Healthcare and has experience in a variety of settings including Musculoskeletal Outpatients, Intensive care and Orthopaedics. Holly has a particular interest in rehabilitating sporting injuries as well as supporting those suffering with back pain.
.
PASSIONS:
Outside of Physiotherapy, Holly enjoys weightlifting in the gym, live music, eating good food and travel.
WHY DID HOLLY BECOME A PHYSIOTHERAPIST?
Through both playing sports at a young and having family in the military, Holly saw first hand the benefits of Physiotherapy. Holly developed an appreciation for the complexities of the human body and the variety of tools physiotherapy utilises to overcome injury and improve pain.
WHERE WOULD WE FIND HOLLY IN HER SPARE TIME?
More than likely at the gym or eating out somewhere nice!
.