Surviving the Summer Holidays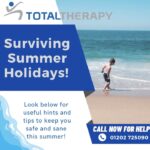 Love them or hate them, the summer holidays are here and in full swing! Lilliput Health are wishing you a lovely summer break! To help you get the best out of them were are offering some hints and tips!
First of all, if you have kids off school it's important to remember it's a break for them, but we need breaks too! Kids keep us constantly on the go and (even though we love them dearly) they can be quite demanding and tiring. This can raise the stress hormone, cortisol. Chronic stress is linked with a plethora of health implications such as: gut issues, skin/hair problems, muscle tightness and body aches + pains. This is why it's vital to give yourselves a break away from the kids. Organise a play date (or even better, a sleepover) to give yourself time to chill and unwind. This will give your body time to destress and lower cortisol levels. Side note – take this time to relax, no house work, sending emails or taking the mother in law shopping… just stop, breathe, read a book or nap!
When you do have the kids, being outdoors is a great way to burn off excess energy. A popular place to do this round here is the beach! Just be wary how much stuff you take with you, your body wont appreciate carrying the cool box, bucket + spade, wind breaker, BBQ, tent, inflatable dolphin and a sleeping child all in one go! Plan to travel as light as you can so you don't strain your back or shoulders. When you finally get to your spot take some time to remember how your body felt last time after sitting on sand all day. To help prevent that discomfort make sure you move regularly, every 20 minutes get up, walk around or go for a swim. Take a lightweight camp chair if your body doesn't cope with sitting on the ground. If you do get a chance to sunbathe avoid lying on your tummy, particularly if you are prone to a sore neck.
Be aware of the footwear you choose, even though flip flops are quick, easy and stylish they change how your body works (see our up coming flip flop blog). They can cause knee, ankle and back pain. Perhaps swap them for a pair of trainers or a supportive sandal.
Lots of us want to head away for a change of scenery. Cornwall and Spain seem to be the places of choice currently! If you can drive to your destination, take regular breaks from being in the car so you don't seize up. If you have space take your own pillow with you. And remember to take some snacks and entertainment, you can only play eye spy for so long. If you are flying, be cautious of over filling your bag, it's amazing how quickly they get heavy. Take a case with wheels, if it fits your pillow in it – that's a bonus! Pick an isle seat and when the seat belt signs are off get up and wonder up and down every 20 minutes if you can.
So, how can you reduce your stress levels in a meaningful way? The answer is cold water exposure, which has been proven to increase our 'stress resilience'. The current research suggests 3-5 minutes of sub-16 degree Celsius water reduces cortisol levels and further increases you resilience to stressful stimuli for the following 2-3 days. You can do this at home by turning your shower as cold as you can tolerate, or simply by taking a dip in the sea (which in Bournemouth only exceeds 16 degrees in late August and early September)!
Strange beds and unfamiliar activities can leave some of us feeling like we need another holiday when we get back! If you were sensible, you would have pre-booked your next check up with your favourite chiropractor before you went away. If it slipped your mind give us a call on 01202 725090 or visit www.total therapy.co.uk to book your appointment!
We look forward to seeing you soon, happy holidays!!