World Wellbeing Week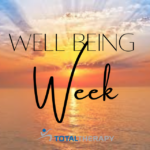 The 1st July marked the end of this year's World Wellbeing week, and boy, do we need to highlight wellbeing this year more than ever.
It's no secret that the last 28 months have been a struggle for many of us, not only mentally but physically and socially.
I'm sure lots of you already know that the World Health Organisation (WHO) define health as a complete state of physical, mental, and social wellbeing, not only the absence of disease or infirmity. I'm not sure many of us can say we are running successfully on all three of those cylinders.
Covid/lockdowns have led some of us to neglect key aspects of our lives and health. We might be seeing friends less, we might not have taken that important break away from work, or we simply stopped going to the gym.Whatever it may be, today is the day to get back on track and be fulfilled in all aspects of life. Here at Total Therapy, we are dedicated to help you set some reasonable, achievable goals. We understand that each of you are individuals with specific needs, and our chiropractic team is dedicated to getting you where you want/deserve to be.There is no goal too big or small, so if you want to be able to get back out to your knitting club, kick a football in the park with the kids or climb Mount Everest, speak to one of our passionate team about how we can get you there!Researchers have shown a clear link between mental and physical health. One study found that '30% of all people with a long-term physical health condition also have a mental health problem'. Another study found that 'Over 75% of depressed patients in primary care complain of painful physical symptoms'.
Therefore, it is so difficult to mentally feel good whilst being in physical discomfort and vice versa.
So, if that pesky niggle has been getting you down or you want to improve your physicality, now is the best time to do it with our 20% off for New Patient offer! Simply book online or give us a call on 01202 725090 to book.
And don't worry, we haven't forgotten about our current patients! We are offering you a special longer session with your current practitioner to set some goals and make a plan of how you can achieve them. Just ask us to book in a "Reset Session" and we will be happy to help.
Remember wellbeing is a combination of social, physical, and mental health, so book that annual leave, schedule a coffee with your long-lost friend and most importantly prioritise your physical health by asking us for help!