Vicky Bishop – Podiatrist in Poole
Vicky Bishop graduated from Plymouth University in 1994 with a degree in Podiatry. In her 21 years as a podiatrist she has worked in both community and hospital clinics, as both specialist and generalist. She has experience in diabetes, rheumatology, nail surgery, biomechanics, orthoses and general podiatry.
Vicky enjoys getting together with friends and family, walking (with her dog and friends), tending her small but evolving garden, going to the cinema and occasionally the theatre, listening to music, going to gigs and generally making the most of life.
Vicky is a keen runner and won her age category in the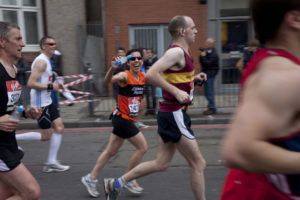 Dorset Road Running League for 2010 and during that year she also ran the London Virgin marathon (her first ever marathon) and completed it in 3hrs 30mins and 37secs. Although Vicky doesn't consider herself a marathon runner and doesn't run as many road races now, she enjoys the fitness, and other health benefits running can give. She can often be seen running with her dog called Gwladys. She knows there are no short cuts to training for a big event, no matter what the sport, or even the big event itself – life.
To get the most out of life everyone needs to work at keeping themselves as active as possible, whether that is continuing to get out in the garden, kicking a ball about with friends or family, taking a walk or even running your first marathon. Vicky will do everything she can to ensure your feet don't stop you in that pursuit.